Job roles.
Whatever role you take on at Head office, you'll have a contribution to make. We can guarantee you'll be helping us change. You might even be driving it.
Our locations.
It's great having more than one base. It means ideas can come from any corner of the business. And we're biased, but these are pretty fab and accessible places. We have people from all over the country who travel to and from our locations.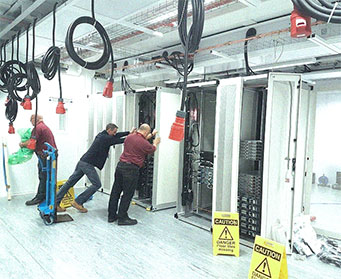 A huge new IT system.
Tech lovers unite.
Technology makes our hearts skip a beat. But this latest system will skip nothing. We're working with brilliant partners to design, build and deploy an IT setup with simplicity and standardisation at its core. It'll be hosted on a cloud based platform too. It means we can get our ideas and propositions out there faster.
Getting 5G ready.
All in the cloud.
Along with Espoo and Nokia, we're going to deploy the world's first fully integrated cloud native core network. It means massive scalability and we'll be ready when our customers want the Internet of Things and 5G. We already carry 35% of the UK's mobile data traffic. Innovation will be where our customers need it – in the cloud and on their phones.
What we're like.
You might be wondering how we do things around Head Office. After all, it's where the digital push is really kicking off. We're highly agile. Which means we prioritise and adapt quickly. And we work together – when things move this fast, you have to be kings and queens of collaboration (with no egos to get in the way of shared success). Yes, it can get be a bit frenetic around here. But if we want to be the UK's best loved brand, we have to turn stuff upside down now and again. Plus it's more fun that way.
We've been doing things differently for the whole 15 years we've been around in the UK.
Initiatives.
Wellness is something that's really important to us – we've always taken an understanding and proactive approach to our people's health and welfare.
Energise
is our programme to keep employees in great shape, through good food, quality sleep and enough exercise.
Balance
is our initiative to say it's OK not to be OK. There's no stigma attached to mental health here and people are comfortable to talk. There's a free helpline if anyone needs it.
Connect
is our way of supporting you to spend more time on the people and causes you care about. That could be socialising with family and friends, picking the kids up more often, focusing extra energy on a hobby or helping out a charity. Whatever's important to you is important to us.
Rewards.
We know how hard our teams work. So, we're happy to reward our people in many different ways. Stuff like a free phone, a bonus and discounted SIMs for your mates are a heartfelt thank you from us, for a job well done by you.
Here's a quick introduction. Not the full list.
Choose a phone (or £200 cash instead).
You'll get all-you-can-eat calls, texts and data, and even six discount codes in SIM only plans for friends and family.
It's never too early to start a pension.
With ours, when you pay in, we pay in. You'll get tax and national insurance savings straight away.
Our option for private medical insurance.
Will keep you in good shape. There's also access to a digital primary care service so you can Facetime or Skype a GP. Yes, we thought of that too.
Everyone can have a flex allowance too.
That's an extra 3.5% to spend on stuff like additional benefits or topping up your pension. Or take it as cash if you like. Up to you.
It's one of those things you don't want to consider.
But you can opt in to buy life assurance for you and your partner.
Maybe you'd prefer to opt in for other stuff.
Like a season ticket loan, up to 40% discount on gym membership for you and your partner, travel insurance, medical cash plan that even covers acupuncture and physiotherapy.
Back to top